Welcome to the Enchanted Glyph creators of fine historical and mythological jewelry. We are Ben and Janet Crenshaw. Here our love of history and fascination with mythology fill the wellspring at inspiration's source. These themes are reflected in each of our original designs. We share our creations, executed as fine handcrafted jewelry, in celebration of our connection with the past.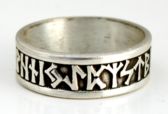 Check out the Prints Page for beautiful new prints by Ben Crenshaw. The limited edition lumographs are a must see. They are the first of what will become a mainstay of The Enchanted Glyph.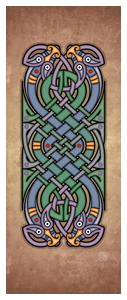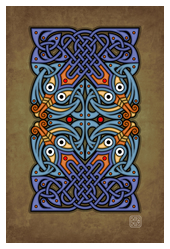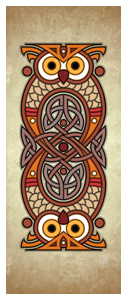 Here is an express lane to some of our most popular items. Click the quick links to go directly to these favorites. Our Rune Ring has become our signature design. For those interested in rune divination we offer a variety of casting sets. Our Scottish Motto Ring and Elemental Pentagram Ring are big hits! If you liked Dan Brown's 'The Da Vinci Code' you have got to check out the Great Rite. Simple understated elegance defines our Michelangelo pendant. Need a gift idea with historical flair for friends who don't wear jewelry? Check out our Pippoglyph Playing Cards! You can't beat them for a stylish inexpensive gift sure to please men and women alike.

Looking for something completely different? Games. Cards. Color. Fun. You'll find them all at our sister site Bent Castle Workshops. Check out the Mayhem at www.bentcastle.com.
Please visit Ben Crenshaw Studios if you'd like to take a look at some of our other graphic design projects.

Enjoy your trip through our pages. We hope you will feel free to get in touch, whether to make an order, to share your thoughts, or just to say hello.